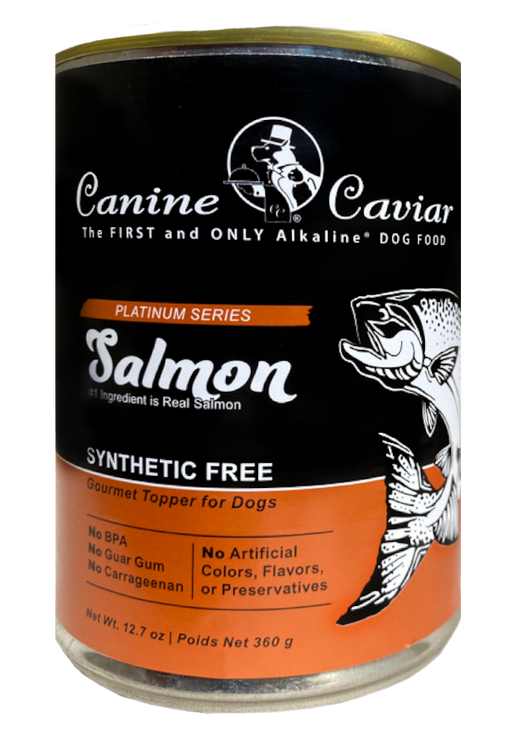 | | |
| --- | --- |
| Protein Source: | Wild Salmon |
| Perfect For: | All Breeds And Sizes |
| Available Can Size: | 13 oz. |
Shake Well Before Opening.
Refrigerate any Unused portion after opening the can.
Always Have Plenty Of Fresh Water Available.
Would you like to make this a complete diet? Mix canned food with Synergy and Kelp to make a delicious and nutritious balanced meal.
Benefits
Canine Caviars Synthetic Free Salmon Gourmet Topper & Canned Dog Food Supplement is a single protein food. It does not contain Guns, Grains, Filler, added Sugar or Salt. It also has no Artificial Colors and is preservative free and has no synthetic additives. Salmon helps support the immune system, has Omega 3 fatty acids (EPA and DHA), and helps sustain a shiny coat.

Canine Caviar Canned Diets are perfect for dogs that have allergies to other proteins. Salmon canned food can be fed as the meat source for an alternative raw diet. It also can be used as a novel protein to stimulate your pet's immune system. You can feed Canine Caviar canned foods as a treat, supplement, or the base meat to an alternative raw meal.

Shiny Coat
Omega-3 fatty acids in Canine Caviar's Salmon Canned Dog food helps your dogs coat maintain its shine and health. The Omega-3 fatty acids help lessen skin issues such as dry flaky skin and excessive dander.
100% Hypoallergenic
Canine Caviar offers a hypoallergenic canned dog food formula. By using single a source protein, and not using preservatives, chemicals, and artificial colors we reduce the risks of allergies and developed food intolerances. Salmon Canned dog food helps sustain your dog's healthy lifestyle.
Canine Caviar Limited Ingredient Advantage – Singe Protein
Canine Caviar's Salmon Canned Food is a limited ingredient dog food. Limited ingredient diets have fewer ingredients to help reduce food intolerances and or allergic reactions. Our limited ingredient diets use no fillers, no preservatives, and no additives; yet provides your dog with superior nutrition.
Single Protein Method
All Canine Caviar's Salmon Canned Food is single source protein based. A single source protein diet may be beneficial in preventing protein intolerances from developing. Single source protein diets also allow your four-legged family member to digest protein more efficiently and effectively. Canine Caviar's Salmon Canned Food centers around Salmon as the protein source.
Holistic and Alkalizing
Canine Caviar's Salmon Canned dog food is a holistic and alkalizing diet. Canine Caviar's Salmon Canned Dog Food promotes proper Ph levels in your companion's body. Proper Ph helps leads our dogs to good health and allows the body to function more naturally as the "wild" dog would.
Gluten Free
Canine Caviar's Salmon Canned food is a gluten free dog food and may be recommended for dogs with gluten allergies.
Grain Free Dog Food
Canine Caviar's Synthetic Free Salmon Dog Food is grain free wet dog food. Grain free dog food gives your dog more energy and keeps your dog fuller longer.
Low Sodium Diet

Canine Caviar's Salmon Canned food is considered a low sodium diet. Low sodium dog food is ideal for dogs with heart or kidney issues, or those that need to watch their sodium intake.
Daily Feeding Guidelines
A 1/4 can a day for every 40 lbs of body weight.

Puppies may need up to twice the amount for the same body weight, and nursing mothers up to three times.

Canine Caviar canned foods are a great alternative protein source. They contain only meat and are not complete diets. They are intended to be used as a treat, supplement or the base of a home prepared meal.
* Shake well before opening.
Ingredients
Wild Salmon, Fish Broth, Fenugreek seeds.
Guaranteed Analysis
| | |
| --- | --- |
| Crude Protein | 9.0 % min. |
| Crude Fat | 6.5 % min. |
| Crude Fiber | 1.0 % max. |
| Moisture | 78.0 % max. |
ME = 408 kcal/can or 1108 kcal/kg
| | |
| --- | --- |
| Variants: | |
| Weight: | |
| Brand: | Canine Caviar |