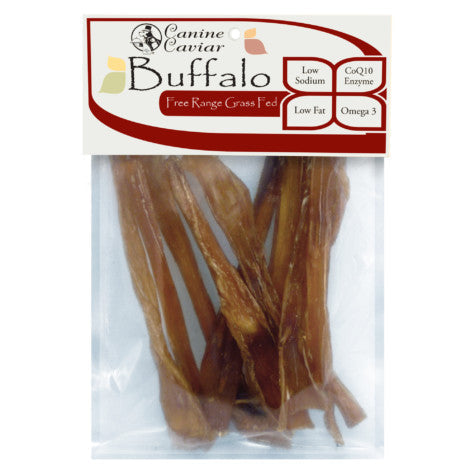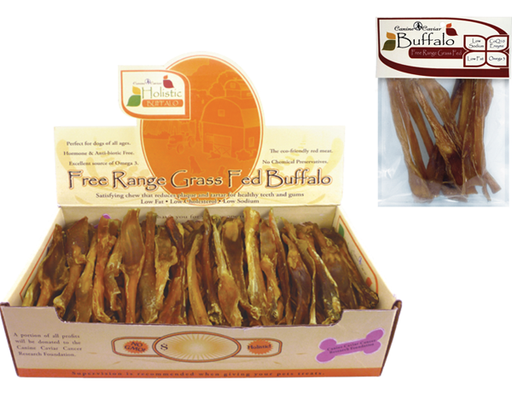 | | |
| --- | --- |
| Protein Source: | Buffalo |
| Perfect For: | All Breeds And Sizes |
| Available Sizes: | 6" lengths.  10 packs (6" pieces). |
Benefits
Free Range Grass Fed Buffalo.
Hormone & Antibiotic Free.
 Buffalo have 70 to 90% less fat and 50% less cholesterol.
Product of India.
Available in Bulk
Our Buffalo Toothpicks is available in bulk for you to purchase. Have a well stocked supply of buffalo dog treats bulk so your dog won't run out of its favorite treat.
Best Dental Chews for Dogs]
Canine Caviar's Buffalo dog treats are part of our family of dental treats for dogs. These buffalo dog treats help in tartar removal. Tartar can be damaging to a dog's oral health because it can lead to oral diseases and tooth decay. buffalo neck and our other buffalo dog treats help fight tartar to keep your dog with a beautiful smile.
Long Lasting Dog Chews
Canine Caviar's Buffalo Toothpicks is the best dog chews on the market because they last long. Our long lasting dog chews are packed with protein so your dog will be chewing on a single piece for a long time. Our 100% free range grass fed buffalo that we use in our long lasting dog chews create the best healthy experience for your dog.
High Protein Dog Treats
Our buffalo tendons are a part of our family of high protein dog treats which is an essential component to any dog's diet. The amino acids inside our high protein dog treats are necessary so dogs can build strong muscles, bones, and joints. High protein dog treats also serve the purpose of proper protein rotation which dogs need to build strong immune systems.
Low Fat Dog Treats
Our Buffalo Toothpicks are a great example of low fat dog treats. The low fat content in our buffalo dog treats keeps your dogs healthy. Our buffalo tendons are also a great set of low fat dog treats for dogs that suffer from exocrine pancreatic insufficiency (EPI) or inflammatory bowel disease (IBD).
Low Sodium Dog Treats

Canine Caviar's Toothpicks dog treats are low sodium dog treats. Low sodium dog treats like our buffalo tendon treats are perfect for dogs with heart or kidney issues and need to watch their sodium intake. Heart issues include heart murmurs, heart failure, enlarged heart, and other heart diseases.
Daily Feeding
1 piece per day.
For the safety of your pet, observation is recommended when feeding your pet treats, bones, or chews.
Ingredients
Dehydrated Buffalo Tendon.
| | |
| --- | --- |
| Variants: | |
| Weight: | |
| Brand: | Canine Caviar |