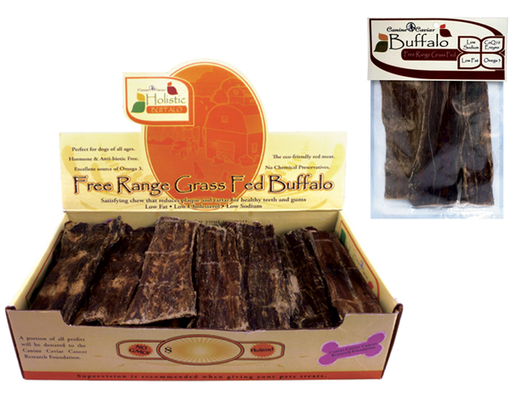 | | |
| --- | --- |
| Protein Source: | Buffalo |
| Perfect For: | All Breeds And Sizes |
| Available Sizes: | 6" lengths. 12" lengths. 3 packs (6" pieces). |
Benefits
Free Range Grass Fed Buffalo.
Hormone & Antibiotic Free.
 Buffalo is a better source of omega 3 fatty acids and CoQ10 enzyme.
Product of India.
Canine Caviar All Natural Buffalo Jerky Dog Chews are an extra meaty chew made with 100% free-range grass-fed Buffalo. They are a long-lasting satisfying chew that can help reduce tartar and help maintain your dog's oral health. 
Dental Chews for Dogs
Canine Caviar's Buffalo Jerky is a part of our family of dental treats for dogs. The Buffalo Jerky helps in tartar removal. Tartar can be damaging to a dog's oral health as it can lead to oral diseases and tooth decay. Buffalo Lung chews help fight tartar to keep your dog's beautiful smile for years to come.
Long Lasting Dog Chews
Canine Caviar's Buffalo Jerky is long lasting and packed with protein. Our 100% free-range grass-fed buffalo that we use in our long-lasting dog chews create a healthy chew alternative for your dog.
High Protein Dog Chews
Buffalo Jerky is part of our family of high protein dog chews. Protein is an essential component to any dog's diet. The amino acids in our high protein dog chews are necessary for your dog. Amino Acids help dogs build strong muscles, bone, and joints. Our high protein dog chews also help with proper protein rotation which dogs need to maintain strong immune systems.
Low fat Dog Chews
Our Buffalo Jerky is a great example of a low-fat dog chew. The low-fat content in our Buffalo Jerky chews is important, as high fat treats are unhealthy for your dog. Our Buffalo Jerky chews allow dogs with exocrine pancreatic insufficiency (EPI) or inflammatory bowel disease (IBD) to have a high protein but low-fat chew.
Low Sodium Dog Chews
Canine Caviar's Buffalo Jerky is considered a low sodium dog chew. Low sodium dog chews are perfect for dogs with heart or kidney issues or those that need to watch their sodium intake.
| | |
| --- | --- |
| Variants: | |
| Weight: | |
| Brand: | Canine Caviar |