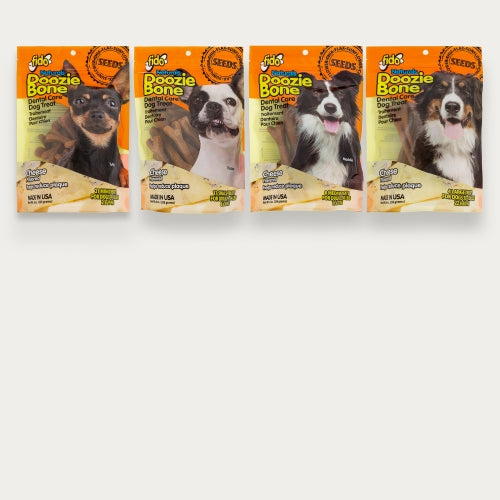 NEW Cheese Naturals Doozie Bones- Dental Care Dog Treats that help reduce plaque. Made with added seed flour for healthy and happy dogs.
These bones are pressure molded not baked. They taste great, are healthy and safely digest, unlike rawhide that have a risk of blockage. Please always supervise your pets so they do not gulp our treats without chewing them first. Proper size of treats depending on breed is recommended.
Calorie Content:Lg/215, Md/102, Sm/66, Mini/40 per bone.
Not for human consumption.
Sizes: Large = 5-3/8", Medium = 4", Small = 3-3/4", Mini 3-1/4"
Ingredients: Potato flour, rice flour, vegetable glycerin, natural vegetable flavor, dried cheese powder, dried kelp, parsley, gelatin, sunflower meal, linguans from flax, chia seeds, canola oil, flaxseed oil, citric acid (preservative).
Variants:

Large

Small

Mini

Weight:
Brand:
Fido Inc.